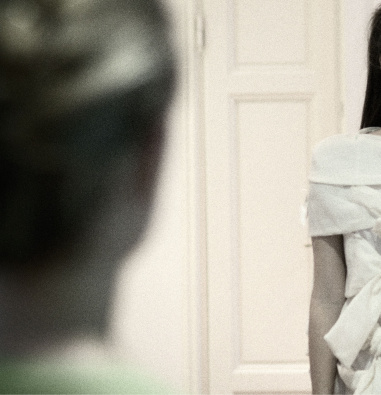 Inspired by shapes and structures, I want you to meet Maria. An experienced Scandinavian designer that combines abstract patterns with clean lines.
As long as she can remember Maria has always loved to draw, paint and create. When she was 15 years old she happen to see a television programme about a young Fashion Designer. The woman first showed her drawings and ideas about her collection and then unpacked several packages with ready clothes from her supplier. This was magic for a young Maria and from this day she was sure that Fashion Designer would be her dream job!

Today more than 20 years later Maria is an experienced Fashion Designer with a wide background from different groups as children, woman and mens wear. She has a history of working on both big and small fashion companies and she even ran her own brand for a few years. Except from fashion design, Maria has always worked with print and pattern in her different positions. This is an interest that has grown and developed over the years and through her work with pattern design, she has also gone from just making clothes to even interior design.
Maria often finds inspiration in design, art and nature, where shapes and structures are especially interesting but even just a thought or a feeling can inspire and give new ideas. She works a lot with colours and love to see how a pattern or a garment change just by different colour combinations. Marias design is a bit arty and often abstract but with a touch of a Scandinavian simplicity and clean lines.

When Maria works with a costumer a design process often starts with a trend and colour research and develops in cooperation with her costumer to a ready product. The work always continues in an open communication with the costumer and the most important for Maria is that her costumers are pleased not just with the final result but with the entire work process.

WORK EXPERIENCE:

OWN BRAND MARIA STÅLHANDSKE
Founder and Head of Design/Production, Womenswear

GREIFF´S (Tuxer & Stadium Outlet)
Fashion Designer, Womens, Mans and Childrenswear

ANOTHER TEXTILE COMPANY
Buyer, Clothes

LINGON & BLÅBÄR
Product Manager/Production Coordinator, Childrens and Womenswear

RNB (Sisters, JC Female)
Fashion Designer/Design Assistant, Womenswear and Accessories

HENNES & MAURITZ
Design Assistant, Childrenswear and Divided Blue